Apple 802.11n Airport Express
*Sponsored Links*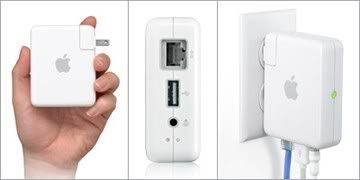 *Sponsored Links*

Another day,another new product from Apple.This time the company has launched the 802.11n Airport Express wireless base station.Here are the features:
It is still a single piece device that plugs directly into the wall. This compact design has been one of the most popular features of the AirPort Express, especially for those people that regularly travel.
The Airport Express also has a combo digital and analog audio connector, so you can connect it to a stereo. You can then wirelessly stream music through the AirPort to the stereo from iTunes on your Mac.
The new AirPort Express costs $99 and is available immediately.
*Sponsored Links*