Digital Camera Buyer Guide For 2008
*Sponsored Links*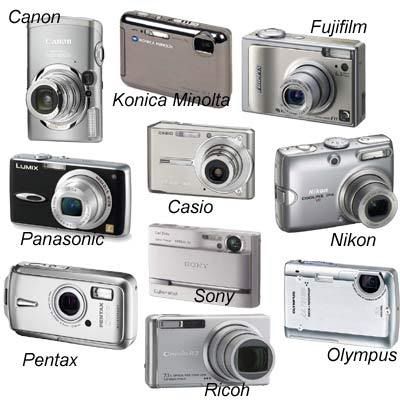 Digital Camera Buyer's Guide For 2008
*Sponsored Links*

Here is the Digital Camera Buyer's Guide for 2008.
The Olympus Stylus 1030SW priced at $400:
Aside from offering 10.1-megapixels and 3.6x optical zoom, the Olympus Stylus 1030SW can be submerged in up to 33 feet of water, dropped from a height of 6.6 feet, withstand temperatures as low as 14-degrees Fahrenheit and stand strong against 220 pounds of pressure.The Stylus 1030SW also features a 2.7-inch LCD and besides its 0.84-inch thickness, the camera weighs just 6.3 ounces.
Sony Cyber-shot T70 priced at $300:

The Cyber-shot T70 is an 8.1-megapixel ultra-compact that sports a 3.0-inch touch screen LCD that allows you to use the camera's intuitive on-screen menu system to make navigating the device much simpler.
Besides that, the Cyber-shot T70 offers 3x optical zoom and face-detection technology that should help you take a much nicer shot. To make the camera more interactive, Sony also included an HD slideshow mode, that let's you pick from four pre-installed music selections to create a more entertaining show.
Canon PowerShot S5 IS priced at $400:
The Canon PowerShot S5 IS looks to be a great alternative to DSLRs if you're looking for a high-quality photograph.
FujiFilm Finepix S8000fd price at $500:
The Finepix S8000fd sports 8-megapixels and an 18x wide-angle optical zoom. Aside from that, the camera features dual image stabilization to reduce blur and facial recognition to ensure a better-framed shot. The Finepix S8000fd also includes ISO sensitivity of ISO 1600 at full resolution, but can be increased to ISO 6400 if resolution is reduced to 50 percent with the manual toggle.
On the back, the Finepix S8000fd offers the same 2.5-inch TFT LCD display as the PowerShot S5 IS and a mode dial that helps reduce blur or adapt to lighting. Just like the others, the camera includes white balance adjustments and can record about nine minutes of video on a 512MB SD card.
Olympus SP-570 UZ priced at $500:
The DSC-H9 is an 8.1-megapixel point-and-shoot that features a 15x optical zoom and a 3-inch LCD tilt-up screen that reveals a host of simple options for viewing and modifying pictures. Sporting a relatively fast shutter speed of 1/4000 second, the camera is capable of capturing fast movement or sports action adeptly.
More interesting, the Cyber-shot DSC-HP also ships with Sony's own NightShot infrared system, which provides infrared illumination for shooting in near-dark or totally dark conditions without using a flash. Aside from that, the camera features ISO sensitivity up to ISO 3200 and HD output for viewing photos on an HDTV.
Olympus Evolt E-510 priced at $749 (with two lenses):
Much like Sony, Olympus makes a number of fine digital cameras that don't necessarily reach the heights Nikon or Canon's high-end DSLRs do, but do hit the right price point for the healthy list of features they offer.
Not to be left out, Olympus' Evolt E-510 looks to be a great DSLR if you're on a budget. The Evolt E-510 sports 10-megapixels and a 2.5-inch LCD display for easy viewing after snapping the picture. Just like the Alpha DSLR-A200, Olympus' DSLR sports dust reduction technology with the help of a filter that vibrates 35,000 times per second to shake any residue off the lens.
Sony Alpha DSLR-A200 priced at $699 (with lens):
The Alpha DSLR-A200 sports 11.2-megapixels and an ISO sensitivity range of ISO 100 to 3200. To reduce the effect dust can have on picture quality when changing lenses, Sony installed anti-dust technology into the camera that includes both static-free anti-dust coating on the CCD filter and anti-dust vibration that automatically shakes the CCD to dislodge dust each time the camera is shut off.
Much like the others, the Alpha DSLR-A200 features white balance control in eight modes and sports a 2.7-inch TFT LCD display to let you manage the camera's menu and picture displays as needed.
*Sponsored Links*