Doodle 4 Google Mackenzie Melton
*Sponsored Links*
Doodle 4 Google Mackenzie Melton – The Doodle 4 Google competition has come to an end, and the winner has been announced. The winner of this year's competition is 9 year old Mackenzie Melton of El Dorado Springs, Missouri. The competition had invited kids of all ages, across the U.S. to have their artwork featured on the Google homepage.The competition had been a huge success the first few times that the program was run. They received more than 30,000 submissions in the short time that the contest was open for entry, and the artwork of more than 40 individuals are being exhibited for the public as the Smithsonian Cooper Hewitt National Design Museum from the 27th of May through the 8th of July.
This is the second year that the company has done the competition that allows children to redesign the Google logo.

*Sponsored Links*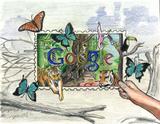 "At Google we believe in thinking big and dreaming big, and we can't think of anything more important than encourage students to do the same," the company said on their FAQ page on the competition website.
The winning price comes with a $15,000 college scholarship for MacKenzie. It can be used at the school of her choice. Along with the scholarship she will also receive a trip to New York for the announcing event, a laptop computer, and a wacom digital western tablet, as well as a T-Shirt with her Google Doodle logo printed on it.
In her response to the "If I could, I would" prompt for the competition was the following;
"If i could do anything I would… make the world eco-friendly. I would ride my bike to school and make my electricity from wind. I would compost my garbage and recycle my empty bottles and cans. I would keep the earth as clean as when I first found it.
*Sponsored Links*