iPhone OS 3.1 Microsoft Exchange Account Fix
*Sponsored Links*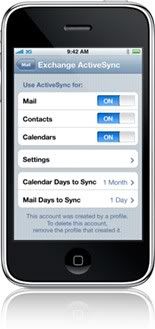 If you are an iPhone 3GS user and you are seeing a "Policy Requirement" error whenever you try to use your Microsoft Exchange account after upgrading to OS 3.1? Well great news the matter has been solved and this is what you have to do:

*Sponsored Links*

Resolution:
iPhone OS (beginning with the iPhone OS 3.1 update) can enforce the Exchange ActiveSync mailbox policy requiring encryption on the device. If your Exchange Server administrator has selected this option, only devices that support device-level encryption are allowed to sync Mail, Contacts, and Calendars.
To reestablish syncing, have your Exchange Server administrator change the mailbox policy to no longer require device encryption.
Additional Information:
Note that iPhone 3GS supports device encryption.
That's all we have for now on iPhone OS 3.1.
*Sponsored Links*