Samsung Develops New Flash Memory Chip
*Sponsored Links*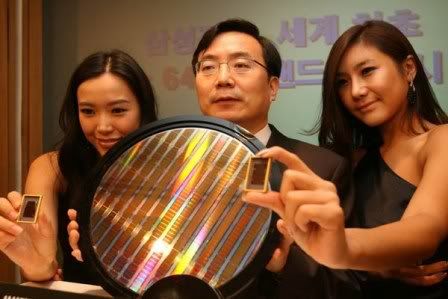 Samsung Electronics Co announced yesterday that it has created the world's first 30nm-class 64Gb NAND chip.
The well advanced 64-gigabit NAND flash memory chip relies on a high quality process technology operated by circuit elements that are only 30 nanometers wide.
In case you were sleeping in class, a nanometer is one-billionth of a meter; for example a human hair is about 80,000 nanometers across.
Samsung released a statement saying:
"The flash memory device represents a major leap forward in the move to higher density flash storage solutions at a time of exploding demand for flash as the main storage medium in computing and digital applications,"
*Sponsored Links*
Flash memory chips are found in digital music gadgets, digital cameras and mobile phones.
The chips can memorize data even when the appliances are out of function.
The bad news is that Samsung will only start production of the chip in 2009.The good news is that you get to enjoy the pictures of the hot Koreans babes promoting it.

*Sponsored Links*