Walkstation By James Levine Will Make You Sweat
*Sponsored Links*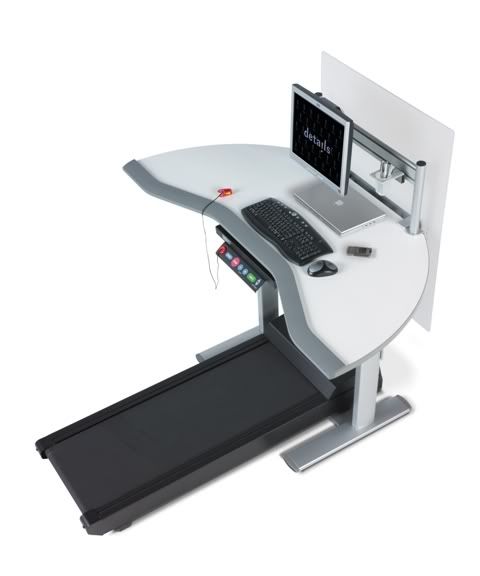 *Click on image for larger view*
American workers are overweight ,and it's your boss' fault by the way.
According to The Marlin Company's newly-published 2007 workplace poll done by Harris Interactive:
just 36% of workers in 2004 said their company was "very active" or "somewhat active" in offering information about exercise and healthy eating, 22% fewer than in 2007. The number of employees whose companies were "not at all" or "not very active" has dropped from 63% in 2004 to 41% in 2007. Meanwhile, it seems that companies have not made the same strides to discourage junk food consumption. In the 2004 survey, 84% of workers whose companies had vending machines said their workplace vending machines were stocked with snacks, such as potato chips, cookies, and candy bars, a difference of just 9% over 2007.

*Sponsored Links*

To solve the problem,some genius named Dr. James Levine came up with a solution:the Walkstation. From Steelcase.

Designed to encourage more movement by walking slowly at work, Dr. Levine estimates that users of the walkstation have the potential to increase energy expenditure and burn calories even when walking at a 1 mph rate. For some individuals, particularly for obese individuals and those who do not otherwise exercise daily, use of the walkstation may result in actual weight loss. Additional benefits of movement at work can include less stress, increased productivity and improved focus.
Are you telling me that people are so freaking addicted to junk food,they just can not stop eating for God sake.
As if that piece of crap was going to be efficient,I can already imagine few people losing their balance and falling on their ass or head.
By the way if you are interested in purchasing this,it will only cost you $6,500,that's way more expensive than few pizzas.
*Sponsored Links*